Cartridge Heaters
Elmec Cartridge heaters are available in low, medium and high watt densities with internally externally connected leads. We also manufacture Split type cartridge heaters for high temperature applications. We built every technically possible heaters as per your requirement.
Ceramic cartridge heaters
Elmec Ceramic Cartridge Heating are made of helically would resistance coil stretched and strung through series of open type ceramic insulators. The elements is centrally supported by SS 304 rod. For high temperature applications SS 316 (or) SS 310 rod are used for center support.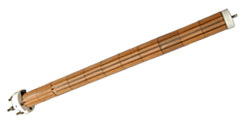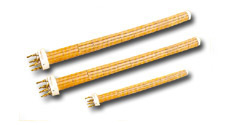 Features:
Nickel Chrome / kanthal resistance wire
Available in Dia 26 mm to and Length upto 3000mm
Surface watt density:
For oils - 1.4 to 4 watts / cm2
For wter - 1.4 to 8 watts/cm2
For Metals - 2 to 5 watts/cm2
For air 1.6 to 3.2 watts/cm2
Applications:
Heading Liquids & gases
Dryers
Ovens
Printing Machinery
Packing Machinery
When ordering please specify:
Dia & length of the heater
Wattage and Voltage
Type of terminal
Cold zone length & hot zone length
High density cartridge Heaters
Elmec High Watt Density Cartridge Heaters are manufactured with most advanced technology and quality raw materials, enables usage with high watts in small spaces and advanced manufacturing process ensures our heaters are vibration proof and thus ensures excellent reliability in heavy duty working conditions (Like Plastic Processing, Printing, Packaging and automobile industries where the heaters are subjected to heavy vibrations). The high performance is achieved by correct installation of the cartridge heaters. The perfect fitness of the heater in the hole facilitates good heat exchange between the surfaces of heater and mass to be heated thus increases the heater life and reduces energy loss.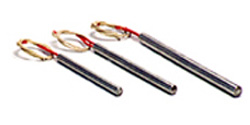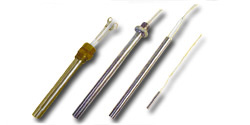 Applications
Plastic processing machinery
Hot runner mould
Packaging machinery
Dies & moulds
Shoe machinery
Labeling machineries and a lot of other applications.
Food processing machinery
Hot Stamping
Heating gases and liquids.
Features
Sheathing material : SS 304 and SS 316
Available with inbuilt Thermocouple 'J' or 'K'
Maximum sheath temperature 800oC
Rugged & durable construction
Highly compacted construction improves heater life and reduces the effect of vibration and shock.
Excellent heat transfer.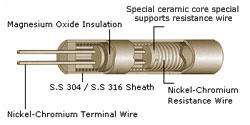 Mounting bore clearance:
The gap between the heater O.D and the bore I.D should be very close.
To determine Fit :
Fit = Largest hole I.D - Min heater O.D
Ex: Heater O.D = 12.5 mm (± 0.06mm std. tolerance)
Hole I.D = 12.6 mm (± 0.02mm hole tolerance)
Min heater O.D = 12.44 mm
Largest hole I.D = 12.62 mm
Fit = 12.62 - 12.44 = 0.18 mm (max permissible clearance)
Refer Operating temperature Vs Watt density graph to find max permissible clearance.

Dia
mm
6.5
8
10
12.5
16
19
25
inch
1/4
5/16
3/8
1/2
5/8
3/4
1
Length
Min mm
35
35
40
40
50
60
75
Max mm
250
250
500
500
1500
1500
1500
Terminals
Fibre glass or Teflon wire crimped or welded to terminals
Fibre glass wire with SS metal braiding
Wires protected with SS or GI flexible conduits
All wires are available in straight or right angle exit
Drawing or sample required for special type terminals
Low density cartridge heaters
Elmec Low Density Cartridge Heaters are made of helically wound nickel chrome resistance wire evenly stretched and placed in ceramic insulators. The elment assembly is inserted into Brass/SS 304 tube. High grade MgO powder is filled in the remaining space inside the ceramic insulators to increase thermal conductivity, dielectric strength and heater life.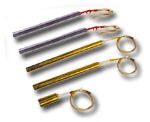 Features
Low watt density heaters are available in brass or SS 304 sheath.
Medium & High watt density heaters are available in SS 304 sheath.
Braided Wire, straight or right angle exit.
Uniform surface temperatures.
Flange type optional Braided wire.
Max temp for SS tube 400oC, for Brass tube 200oC.
Applications
Processing machinery.
Injection and Blow Moulding.
Hot runner bushings.
Packaging machinery.
For fastening of turbine bolts .
Extruders.
Hot plates, moulds & dies .
Food processing machinery
Medical Equipments
Shoe Machinery
Mounting Bore
The inner diameter of the hole can be between 0.15mm and 0.30mm larger than the cartridge diameter. The lesser the clearance between the heater and the bore diameter, the longer will be its life.
Size
Diameter - Min 8mm to Max 45mm
Length - Available in any desired length
Max watt density 3.5 watt/sq cm.
For higher wattage and high temperature we recommend high watt density cartridge heaters.
Terminals
Available in Teflon wire, fiberglass wire and nickel chromium wires. Insulated with ceramic beads or fiber glass sleeves.
From Dia 22mm onwards, screw connections are available
Send drawing or samples for any specific configuration
Fibre glass or tefflonwire crimped or welded to terminals
When Ordering please Specify :
Type of heater
Wattage and Voltage
Dia & length of the heater
Drawing for special type configuration
We can manufacture and supply any intermediate diameter and length, Send drawing or sample for special size.
Split type cartridge heaters
Elmec Split Type Cartridge Heaters are developed for high temperature applicationa. Helically wound resistance coli is placed inside the tube filled with MgO powder and compacted for faster and efficient heat transfer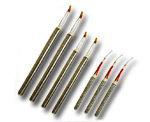 Features
Excellent heat transfer.
More clearance can be provided for inserting split type cartridge. Heaters compared to standard conventional cartridge heaters.
Can be inserted and removed easily.
Longer life.
Uniform heat transfer.
Available in SS304 SS316 sheaths.
Hot zone up to the tip of the element.
Applications
Plastic Processing & Packaging Machinery
Injection & Blow Moulding
Extruders
Foundaries
For fastening of Turbine Bolts
Soldering pots
When ordering please specify
Dia & length of the heater
Wattage and voltage
Type of terminal
Drawing for special type configuration
| | | | | | | | | |
| --- | --- | --- | --- | --- | --- | --- | --- | --- |
| Available | Dia: Mm | 6.5 | 8 | 10 | 12.5 | 14 | 16 | 19 |
| Length(mm) | Min | 40 | 40 | 40 | 50 | 75 | 75 | 100 |
| Max | 500 | 600 | 900 | 1500 | 1500 | 1500 | 1500 | 1500 |
We can manufacture and supply any intermediate diameter and length, Send drawing or sample for special size
Types of terminals for cartridge heaters









Watt density VS fit size for cartridge heaters
Operating temperature of heater and fit size are major factors in determining the life expectancy of cartridge heaters. Select closest practical fit size for installing cartridge heaters for heating metal parts referring