Elmec High Watt Density Cartridge Heaters are manufactured with most advanced technology and quality raw materials, enables usage with high watts in small spaces and advanced manufacturing process ensures our heaters are vibration proof and thus ensures excellent reliability in heavy duty working conditions (Like Plastic Processing, Printing, Packaging and automobile industries where the heaters are subjected to heavy vibrations). The high performance is achieved by correct installation of the cartridge heaters. The perfect fitness of the heater in the hole facilitates good heat exchange between the surfaces of heater and mass to be heated thus increases the heater life and reduces energy loss.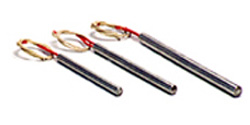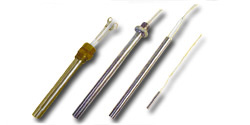 Applications
Plastic processing machinery
Hot runner mould
Packaging machinery
Dies & moulds
Shoe machinery
Labeling machineries and a lot of other applications.
Food processing machinery
Hot Stamping
Heating gases and liquids.
Features
Sheathing material : SS 304 and SS 316
Available with inbuilt Thermocouple 'J' or 'K'
Maximum sheath temperature 800oC
Rugged & durable construction
Highly compacted construction improves heater life and reduces the effect of vibration and shock.
Excellent heat transfer.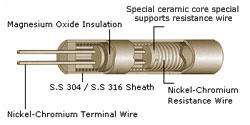 Mounting bore clearance:
The gap between the heater O.D and the bore I.D should be very close.
To determine Fit :
Fit = Largest hole I.D - Min heater O.D
Ex: Heater O.D = 12.5 mm (± 0.06mm std. tolerance)
Hole I.D = 12.6 mm (± 0.02mm hole tolerance)
Min heater O.D = 12.44 mm
Largest hole I.D = 12.62 mm
Fit = 12.62 - 12.44 = 0.18 mm (max permissible clearance)
Refer Operating temperature Vs Watt density graph to find max permissible clearance.

Dia
mm
6.5
8
10
12.5
16
19
25
inch
1/4
5/16
3/8
1/2
5/8
3/4
1
Length
Min mm
35
35
40
40
50
60
75
Max mm
250
250
500
500
1500
1500
1500
Terminals
Fibre glass or Teflon wire crimped or welded to terminals
Fibre glass wire with SS metal braiding
Wires protected with SS or GI flexible conduits
All wires are available in straight or right angle exit
Drawing or sample required for special type terminals